the embankment in bedford
The Embankment has been a Peach Pub since 2008 since when it has become one of the premier spots in the heart of Bedford.  The clue to our location is in the name!  Bedford's beautifully-landscaped Embankment has wonderful views out over the River Great Ouse, the boathouses and all the hustle and bustle of life on the river.
The Embankment Hotel was built in 1891 and we renovated it to reflect its late-Victorian heyday, but with all the modern comforts & facilities of a great pub.  The atmosphere is relaxed & hospitable.  There is no stuffy hotel lobby or residents' lounge, just a team of friendly faces to look after you.
The Embankment appears in the Sawday's guide and website. Read what Alastair Sawday writes about the Embankment here
the peach family
In 2008,  after spending a small fortune The Embankment opened. Our aim is to make our pubs great places, full of character, great individual places to eat, drink & sleep; a place for local people, businesses, families & tourists to meet and call their own. Every pub is unique, individually designed to suit their town or village, and respecting each pub's history.
Peach is not a chain, it's a group of like-minded enthusiasts. If you like one of our places, you're almost bound to like the others. Click here to find them!
We will never be the biggest pub company; we're out for perfection on a small scale, fuelled by passion for good food and drink and a keen interest in protecting the environment.
We are open Monday to Friday from 7am for breakfast, weekend breakfast service starts at 7.30am. Lunch is served from noon & hot food available all day. We take huge pride in serving the best ingredients we can find, from ethical producers, freshly prepared by our chefs. Whether you pop in for a pint, a business lunch or a special dinner, we promise you a friendly welcome. All day long.

We look forward to seeing you soon!
Andrew, Jonathan  & the Team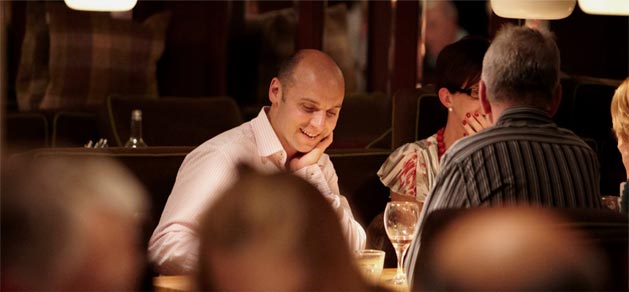 Jonathon Taylor, General Manager

Welcome back Jonathan! He's just back from a 2 year stint at our sister pub The Swan in Salford, where he did a sterling job running this lovely pub, just like he'll do here. One of his first memories was sitting on the kitchen work-top at home cutting up veg for the family dinner. Jonathan joined The Birch at Woburn at 17, made it to assistant manager after a year and never looked back.  With a year's travelling under his belt to broaden his culinary expertise, he came for the first time to The Embankment, and then became General Manager at The Swan.  Pop in and introduce yourself to Jonathon, you won't regret it.
---
Sam Collins, Head Chef

Cooking and eating have always been close to Sam's heart, passions he got from his Dad who ran the kitchen at home. So it was that Sam wanted one of his own, taking himself off to North Devon College to get his whites and then his first job cooking. After a spell soaking up the Sydney food scene, he cooked at some fine London hotels like The Stafford St James's Place and The Cadogan before opening two big hitters, Restaurant Sauterelle at the Royal Exchange and its sister Skylon on the South Bank. Seven great years serving up some fantastic food. Then came more, under the indefatigable Mr Hix at his eponymous Oyster and Chop House, where the menus changed daily and the food stayed amazingly good. Sam says, flavour is where it should be; find plenty of it here in his kitchen.
---
Andrew Coath, Owner
Andrew's delighted to be here in Bedford at The Embankment.  Taking the pub over has been a bit of a dream come true for Andrew, who had a long-held ambition to open a pub with rooms.  Now he's got his hands on this one and turned it into somewhere just wonderful – a real dream of a place to eat, drink, sleep and chill out.
He's already opened two lovely pubs a stone's throw away – The Black Horse in Woburn and The Swan at Salford have both put great food on the map and given a warm welcome to everyone who steps foot inside.  And since he's done everything from running five star hotels to catering for thousands at one go, he's now definitely one of the leading restaurants in Bedfordshire.
---
the peach foundation

The Peach Foundation is a grant giving organisation, we work with Local Heroes promoting and supporting projects that make a real difference to the communities we live and work in. For every Caesar Salad sold we will donate 25p to our charity,  the Peach Foundation. This raises approximately £1000 per year. Our focus is to support local individuals who are passionately promoting and living our values in one or more of these areas:
Food Provenance – happy animals/tasty fruit and vegetables
Healthy Eating – promoting better health in the community
Sports Education – promoting and/or providing local sports facilitates for all
Planetary Hero – saving our planet one small step at a time
To find out more, click here.