the embankment in bedford
Peach is a collection of really great pubs, mainly in market towns in the heart of England. We serve good quality, fresh, honest food in relaxed, welcoming environments. Always with a kind word and a sense of fun.
Since then we have added pubs ancient and modern, neighbourhood locals and country destinations, simple bedrooms and a chic boutique hotel, cocktails, grand gins and ever-improving coffee. Today we have twenty pubs in lovely towns and villages – and an undimmed devotion to Making life Peachy. We always been passionate about giving back and as we've developed and grown over the years, our ability and motivation to make the world a little better, a little peachier, has grown with us. The Peach Foundation, a non-profit organisation, aims to improve communities and the future sustainability of our world.  It is funded by fundraising within Peach; a 25p contribution from every Superfood Salad sold in our pubs and sponsored events.
The Embankment has been a Peach Pub since 2008 since when it has become one of the premier spots in the heart of Bedford. The clue to our location is in the name! Bedford's beautifully-landscaped Embankment has wonderful views out over the River Great Ouse, the boathouses and all the hustle and bustle of life on the river.
The Embankment Hotel was built in 1891 and we renovated it to reflect its late-Victorian heyday, but with all the modern comforts & facilities of a great pub. The atmosphere is relaxed and hospitable.  There is no stuffy hotel lobby or residents' lounge, just a team of friendly faces to look after you.
We are open Monday to Friday from 7am for breakfast, weekend breakfast service starts at 7.30am. Lunch is served from noon and hot food available all day. We take huge pride in serving the best ingredients we can find, from ethical producers, freshly prepared by our chefs. Whether you pop in for a pint, a business lunch or a special dinner, we promise you a friendly welcome. All day long.
We are right in the heart of Bedford on The Embankment by the River Ouse, just off the A6. Find us here.
We look forward to seeing you soon!
Gemma &  the team
 
---
Food and Drink
Hooray for Winter – Winter is a wonderful time to eat hearty and comforting food. Our beef is British, grass-fed and dry-aged for unmatched flavour. All our chicken, eggs and pork are free-range. Our lamb is Cornish and most of our native fish is landed from coastal day-boats. We always serve the good stuff – cooked from scratch by real chefs.
We always serve the good stuff. It's one of our most dearly-held values. We only serve what we want to eat and drink ourselves. Our Head Chef and his skilled brigade devise our seasonal menus and our specials change daily. As well as celebrating our increasingly-vibrant British food culture, the focus on seasonal ingredients means we buy the best stuff when it's at the best price. This way we keep prices sensible even though we're buying top-quality ingredients.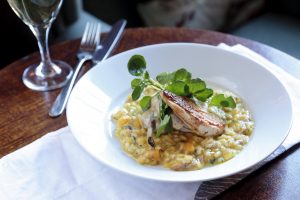 All our meat is British and of the highest quality, from Aubrey Allen; an eighty year-old Warwickshire butcher suppling many of Britain's finest restaurants as well as holding The Queen's Royal Warrant. Our steaks are from Britain's finest (increasingly rare) beef herds, 28-day dry-aged for stupendous flavour. Our Cotswold White chickens are free-range, as are our eggs, pork and ice-cream. Our lamb is Cornish. Our fish is native where possible, and we follow the ever-changing advice on sustainability.
We don't have a children's menu, because we think they should eat food that's as good as yours. Our chefs are happy to make smaller portions or simplified versions of anything on our menu.
We love being a real pub as well as a great Gastropub. With Continental beers and lagers including Peroni and Estrella, and we are serious about our spirits too. Tanqueray Gin and Ketel One Vodka are our current favourites for pouring. Or try the range of premium gins, vodkas and aperitifs from our drinks list.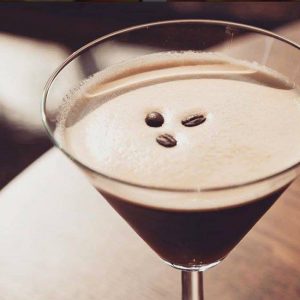 Our wine is chosen by Jo Eames, co-owner of Peach, from three multi award-winning suppliers, Tanners, Liberty Wines & Boutinot. Each has its own specialities, allowing us to pack our list with a great range of top-quality and interesting wines. Let us help you choose something delicious to match your mood or your food.
---
Our Team
Gemma Mallett, General Manager

Gemma's original plan was to become a graphic designer, a goal she achieved after studying graphics at uni. To keep afloat financially at college, she took on bar work at her local Beefeater in Luton, a job she juggled with office life after graduation. Sitting at a computer all day turned out not to be her thing, though, and Gemma jumped ship to work full time at Beefeater, soon becoming assistant manager. After a stint in hotels in Dubai, Gemma came back to The Black Horse in Ireland, a lovely old inn with rooms in rural Bedfordshire, where she spent a happy couple of years before moving to its sister pub The Birch in Woburn. It was only a matter of time before her path crossed ours; Gemma came to Bedford to join the Embankment team and lost no time in making it her own. After three short years, she's stepped up to run it. The fun starts here!
---
Simon Harris, Head Chef 
Simon's inspiration for being a chef was seeing his Dad cook Sunday lunch and the fam

ily sitting round the table tucking in. Being able to make people happy through food just seemed right. So he went to Bedford College to get his whites whilst working at The Bedford Swan hotel learning the ropes. Hungry to learn more, Simon cooked at Brasserie Blanc in Milton Keynes, soaking up all he could from Monsieur Blanc's classically trained brigade. With the move back to The Bedford Swan a year later, Simon's love affair with two classic Bedfordshire venues began in earnest. He spent the first part rising through the ranks at The Swan, taking the food to Rosette standard in a short time, before getting a new lease of life as sous chef at the fabulous Flitwick Manor Hotel. Simon was at the forefront of a successful team cooking fantastic quality cuisine for every occasion, from bespoke weddings to charity fundraisers and intimate dinners. Back in Bedford a couple of years later, Simon did a stint at The Swan before returning to Flitwick Manor to be their head chef. With all this amazing experience under his belt, our Embankment's going to fly.
---