JOIN US ON THE EMBANKMENT
Peach is a collection of really great pubs, mainly in market towns in the heart of England. Situated waterside, we're very fortunate to benefit from Bedford's finest al fresco dining and drinking spot – even if we do say so ourselves. As a quality gastropub, we serve great ingredients and fresh, honest food in relaxed, welcoming surroundings, always with a kind word and a sense of fun. Today we have twenty one pubs in lovely towns and villages, and an undimmed devotion to Making life Peachy. We have always been passionate about giving back and as we've developed and grown over the years, our ability and motivation to make the world a little better, a little peachier, has grown with us. The Bigger Peach shows our efforts to improve communities, equality in the workplace, and the future sustainability of our world. Our achievements were recognised in 2022, when we won Best Sustainable Pub Company at the Publican Awards, and we're also three star accredited by the Sustainable Restaurant Association. 
Soak up the sun, atmosphere and beautiful waterside views whilst enjoying a bite to eat, a cocktail, or a glass of award-winning wine from our drinks list. We serve food all day and children are welcome to enjoy smaller portions of any of our dishes, or ask to see our children's menu. We take huge pride in serving the best ingredients we can find, from ethical producers, freshly prepared by our chefs. We're dog friendly in our bar and outdoor areas, bring your furry friend and stop by soon. On our bar you'll find a great range of spirits, beers and softs, so whether you pop in for a drink, a business lunch or a special dinner, we promise you a friendly welcome. Find us here.
We look forward to seeing you soon!
Michelle & the team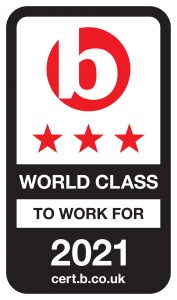 ---

Michelle Bennett, General Manager
Born and bred in Bedford, there can be no one more qualified to sit behind the wheel aboard the good ship Embankment.
Michelle studied Criminology at University but was soon drawn to a life in hospitality when she took her first role in a high street bar as a part time job. Falling in love with the people, the atmosphere, the passion and fun behind what she was serving, she knew then that a so called 'normal job' was not for her and that hospitality was her calling.
Michelle has had an incredible journey so far, working for some of the leading pubs and restaurant groups across the UK. Shaping not only her leadership skills but learning a great deal about food and drink, in her words, "more so drink".  She has worked in some beautiful venues across the country including Mayfair in London, the beautiful quayside in Newcastle and a renovated church in Nottingham.
Joining The Embankment Michelle was delighted to become a part of something local that was right on her doorstep, bang in the heart of the community she admires. Michelle choose Peach Pubs because of our refreshing approach to really caring about our team and communities as well as the autonomy given to our managers to really make their pubs, their own.
Michelle has a very strict daily routine of a cuppa in bed with the Hubby and a good read of the daily newspapers. So, pop down to The Embankment to say hi, who knows what great conversations will be had!
---
Simon Harris, Head Chef 
Simon's inspiration for being a chef was seeing his Dad cook Sunday lunch and the family sitting round the table tucking in. Being able to make people happy through food just seemed right. So he went to Bedford College to get his whites whilst working at The Bedford Swan hotel learning the ropes. Hungry to learn more, Simon cooked at Brasserie Blanc in Milton Keynes, soaking up all he could from Monsieur Blanc's classically trained brigade. With the move back to The Bedford Swan a year later, Simon's love affair with two classic Bedfordshire venues began in earnest. He spent the first part rising through the ranks at The Swan, taking the food to Rosette standard in a short time, before getting a new lease of life as sous chef at the fabulous Flitwick Manor Hotel. Simon was at the forefront of a successful team cooking fantastic quality cuisine for every occasion, from bespoke weddings to charity fundraisers and intimate dinners. Back in Bedford a couple of years later, Simon did a stint at The Swan before returning to Flitwick Manor to be their head chef. Recently shortlisted for Pub Restaurant Chef Award in the Craft Guild of Chef Awards, with all this amazing experience under his belt, our Embankment's going to fly. 
---

Bevy Berenger, POD Director
Reared in Australia, Bevy continues to be patriotic despite being on this side of the pond for the last 24 years and we quickly learned about his love for family the importance of his friendships and his healthy obsession with all things sporty and outdoor life.
Leaving Australia after several years as a bass player (complete with long hair) he decided to put music on hold and travel the world, falling into Hospitality in the early 90's in a cocktail bar in Manchester to supplement the plan. Following a couple of years of rock and roll catering style, he decided to get serious and studied hospitality at Surrey Uni where he met the love of his life.
During a hugely successful career, many of the industry heavyweights such as M&B (All Bar One & PCDG) and Whitbread (hub by Premier Inn) have been lucky enough to recruit his expertise and exciting new concepts always sparked his interest. But we were pleased to find out that he'd always kept an eye on Peach and our independent feel, individuality and pace of growth won him over in the end.
Bevy brings that calm Aussie charm you can't help but relax into and he's made a huge impact on his pubs and the Teams he looks after, which after all, is what we're all about. Join him for a chat about surf, sun, sea and great pubs such as Brookmans, The White Horse, The Swan, Black Horse and The Embankment. Sutherland, Partner